Continuum is a one-hour police drama centered on Kiera Cameron, a regular cop from 65 years in the future who finds herself trapped in present day Vancouver. She is alone, a stranger in a strange land, and has eight of the most ruthless criminals from the future, known as Liber8, loose in the city.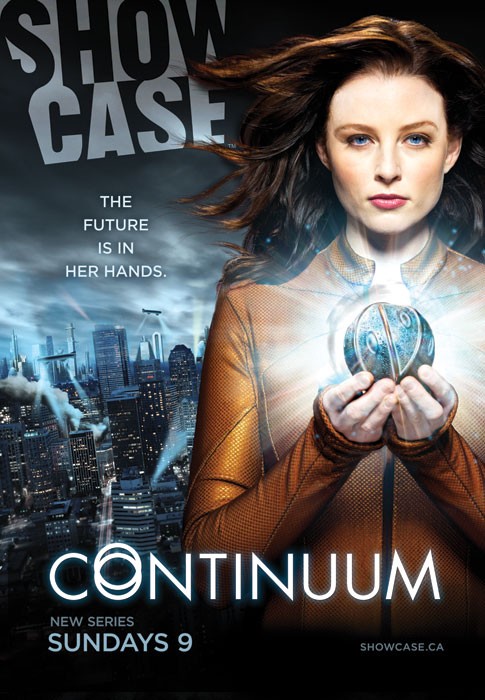 Lucky for Kiera, through the use of her CMR (cellular memory recall), a futuristic liquid chip technology implanted in her brain, she connects with Alec Sadler, a seventeen-year-old tech genius. When Kiera calls and Alec answers, a very unique partnership begins.

Kiera's first desire is to get "home." But until she figures out a way to do that, she must survive in our time period and use all the resources available to her to track and capture the terrorists before they alter history enough to change the course of the future. After all, what's the point of going back if the future isn't the one you left?
Follow up:
Finished watching 3 episodes. It's actually a good series, I didn't expect it to be.
It's like "Time Cop" but not. There are some time paradox discussions (which I like a lot), the plot is easy to guess but at the same time still surprises you.
However, at this point, I think it is a 13-episode series only. The story is moving too fast for it to be a full 27-episode series, which is unfortunate201. But we'll see if the universe can be stretched that much and has the potential to grow.
Oh, "Remember, remember, the 5th of November" when the corporate government was blown up in 2077. :-p (I bet you didn't catch the meaning behind the date shown in episode 1 hehe…)
In General
blog comments powered by

Disqus